In the world of Boat Shows, this year was a big milestone for the well known Dusseldorf Boat Show 2019, as it was the 50th Anniversary of the Water Sports Trade Fair in Germany and Admiral Marine – Yacht & Boat Insurance, took its usual annual trip to find out more about the latest news in the industry.
Boot Dusseldorf 2019 – 50 Years Of Boot Dusseldorf Video
As you can see in the above video at Boot Dusseldorf they have a fantastic Indoor Surfing Venue called The Wave and the Admiral Marine team were lucky enough to ride the waves in front of other Boot Dusseldorf spectators this year!
Boot Dusseldorf 2019 – Admiral Marine Team Riding The Waves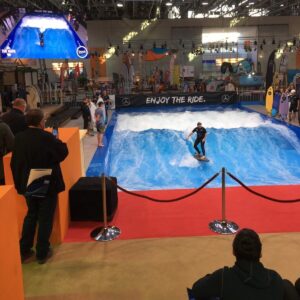 Back to business though and as ever there were many New Sailing Yacht premieres at the Dusseldorf Boat Show 2019 this year and please see below key highlights for us in terms of the Types of Sailboats that we insure at Admiral Marine – Yacht & Boat Insurance:
Boot Dusseldorf 2019 – New Yachts – Beneteau Oceanis 30.1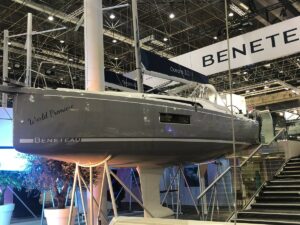 The ever popular Beneteau Yachts have recently launched the Beneteau Oceanis 30.1, which is one of the smallest in the cruising range, but none the less it is still extremely robust, smart, stylish, fast and easy to sail along coastal waters and across high seas.
Boot Dusseldorf 2019 – New Yachts – Hallberg Rassy 57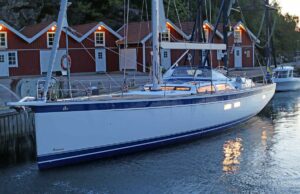 The latest cruising Hallberg Rassy Yacht is the Hallberg Rassy 57, which indecently was Nominated as Europe's Yacht of the Year 2019, but unfortunately didn't win the award at Boot Dusseldorf 2019. However, there is no doubt that this New Sailing Yacht is very impressive for both living space, performance and of course comfortable sailing.
Boot Dusseldorf 2019 – New Yachts – Jeanneau Sun Odyssey 410
Last year Jeanneau Yachts won the European Yacht of the Year 2018 award with the Sun Odyssey 440 and this year with the launch of the Jeanneau Sun Odyssey 410, they're keeping with the same design concept whilst improving the comfort of living on board an impressive 41 foot sailing yacht.
Get A Boat Insurance Quote From Admiral Marine
If you own a Beneteau Yacht, Hallberg Rassy Yacht or even a Jeanneau Yacht and you are looking to get a Boat Insurance Quote, please complete our online quotation form and our experienced team will get back to you with your Yacht Insurance Cost.
Alternatively, if you have any questions and would like to know more about what we can offer, please don't hesitate to use our Request A Call Back option or Contact Us page to get in touch with us to discuss your Boat Insurance requirements.