Lloyd's Global Development Centre, together with The Managing General Agents' Association (MGAA), a non-profit organisation representing UK managing general agents, delivered a third intensive one-day learning programme for 25 of its up-and-coming members, including the Admiral Yacht Insurance Office Manager, Jane Dodd. The training day was held at the iconic Lloyd's Building in Lime Street London.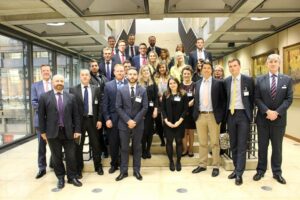 The programme involved senior figures from the corporation of Lloyds of London and the MGAA. The day started with an overview of Lloyd's and the London Market, and included an explanation of Lloyd's unique capital structure, often referred to as the Chain of Security, which provides excellent financial security to the Lloyds Yacht Insurance policyholders, as evidenced by Lloyd's strong ratings. Other topics covered were Delegated Authorities at Lloyd's, Conduct Risk and Emerging Risks.
A key objective of the programme was to clarify just how business is conducted at Lloyds of London and Jane was able to sit with the Admiral Yacht Insurance Underwriter, Munich Re, as they transacted business at their box situated in the Lloyd's underwriting room.
Delegates were also treated to a tour of the Lloyds Building, including a visit to the Committee Room used by the Council of Lloyd's, an 18th century dining room designed for the 2nd Earl of Shelburne by Robert Adam in 1763 and painstakingly relocated piece-by-piece from the previous Lloyd's Building across the road. The room originally came from Bowood House in Wiltshire.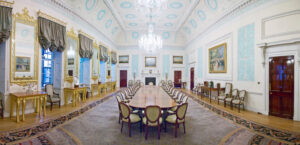 Delegates were lucky enough to be able to meet with Inga Beale, CEO of Lloyd's and various other Motor Boat Insurance professionals from the market who mingled with them over lunch. Following completion of the programme the group were joined by members of the MGAA board for a networking drinks reception.
The day was both thoroughly enjoyable and hugely informative.
Previous articles about our days out at Lloyds of London Insurance are as follows:
Nicola Roberts from Admiral Yacht Insurance receives Certificate of Award from Lloyd's Insurance
Day out at Lloyd's in London for Cristelle from Admiral Yacht Insurance