Arundells , Sir Edward Heath's former home in Salisbury's Cathedral Close, will be hosting the third in their series of Morning Cloud Sailing Talks for sailing enthusiasts on Thursday 10th November 2016. The sailing talks will be delivered by a distinguished line-up of speakers: Sir Chay Blyth, Laurie Boarer and Tim Jeffery. Admiral Marine Yacht Insurance are proud to be sponsoring this prestigious sailing talk event.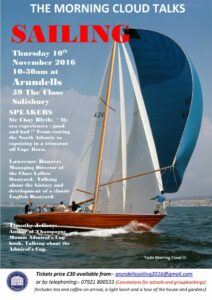 The headline speaker will be the celebrated yachtsman and adventurer Sir Chay Blyth, whose exploits include not only being the first person to sail single-handed westwards around the world but also rowing across the Atlantic in an open dory. His talk will be entitled 'My Sea Experiences Good and Bad'.
Laurie Boarer, Managing Director of the Historic Clare Lallow Boatyard on the Isle of Wight where both Morning Cloud II and III were built, will be speaking on the history and development of this classic boatyard that was established in 1867.
Tim Jeffery, a highly respected sailor and writer who has sailed in some of the great classic yacht races including the Southern Ocean, Transatlantic and Fastnet yacht races, will be speaking about the history of the Admiral's Cup.
As part of the Edward Heath Centenary celebrations, The Royal Ocean Racing Club have generously agreed to loan the iconic Admiral's Cup trophy to the house. It will join Arundells' unique collection of marine models and yachting memorabilia which includes scale models and seascapes of the Morning Cloud yachts together with a number of model warships built by Napoleonic prisoners of war. The Admiral's Cup trophy will be a centrepiece of the Morning Cloud Sailings Talks on 10th November 2016.
Between 1957 and 1999 the Admiral's Cup was known as the unofficial world championship of offshore racing. It was generally held every other year and pitted national teams of three boats against each other. The Fastnet yacht race formed the last of the five yacht races which made up the Admiral's Cup roster.
In 1971, then Prime Minister Edward Heath, aboard his yacht Morning Cloud II, captained the British team to victory in the Admiral's Cup, wresting the trophy back from defending champions, the USA and beating sixteen other national teams. The winning British team consisted of Morning Cloud, Prospect of Whitby and Cervantes IV.
The November 2016 sailing talk event has been a sell-out with all tickets having been sold already. However, tickets are now available for the fourth Morning Cloud Sailing Talk Event which will take place on Thursday 13th April 2017. The headline speaker for April's sailing talk will be Sir Robin Knox-Johnston, the first person to sail single-handed non-stop around the world, an inspirational speaker and one of Britain's best known sailors. To apply for tickets (£30 per head including the sailing talks, a light lunch and a tour of Arundells) telephone 07921 800533.