Admiral Marine, place a lot of importance in maintaining strong relationships with yacht insurance brokers, yacht repairers and yacht surveyors both at home in the UK and abroad.  We make regular visits to refresh our local knowledge of sailing related issues and to meet our contacts on whom our high service standards depend.
With this objective in mind, Robert Holbrook, our Managing Director, and Bob Samuels, our Claims Manager toured Cornwall in early December 2016. Our first visit was to the Cornish Crabbers Factory at Rock, where Peter Thomas, the Cornish Crabbers Managing Director showed us around the busy Crabber production facility.  Admiral Yacht Insurance offers a special Cornish Crabbers Yacht Insurance scheme for Crabber owners and it was interesting to see Peter's new developments first hand, particularly the progress with the new Cornish Crabber 24.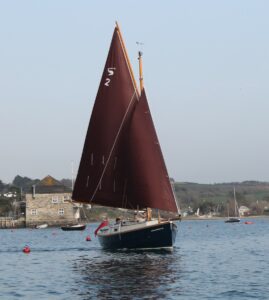 Moving on to the Falmouth area, we visited Simon Carter at Red Ensign's brokerage. We then met with Nick Offord at Rustler Yachts who kindly showed us around the Rustler Yachts build and repair facilities. We also visited Cockwells repair yard and afterwards met with Jonathan Fielding at Falmouth Boat Company in Flushing where several boat insurance claim related repairs have been successfully conducted recently for Admiral insured boat owners.
We enjoyed meeting with David Cox and his wife.  We have been working with David for a long time and have benefitted from his good advice as an experienced yacht surveyor which has enabled Yacht Insurance Claim repairs in the area to be completed to our boat owners' satisfaction.
We then headed back east, calling in at Multimarine's catamaran build and support base at Millbrook near Plymouth. The Rapier 550 that we had sailed on in the summer had been built there and we had a good tour, thanks to Simon Baker, of the wide range of catamaran types built, stored, and serviced there.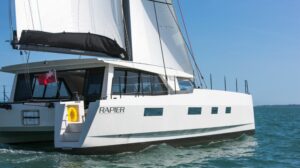 Finally we called in to see Andy Postle at Allspars in Plymouth and were very impressed with the mast and rigging capability he showed us there. It was good to discuss the latest trends with Andy so that we can provide up to date and informed advice to our Motor Boat Insurance customers on the need for rigging checks and rigging renewal.
We very much appreciated the time everyone gave to us during the visit, and we were impressed with the extensive and diverse capabilities offered in this part of the South West. Thanks to everyone we saw.  We also greatly enjoyed our stay with the Laitys at their bed and breakfast near Mylor at Trefusis Barton Farm and look forward to making a return visit some time soon.
If you need a bespoke boat insurance quote for your Cornish Crabber, Rustler Yacht or any other Sailing Yacht or Motor Boat based in the UK or around the world please complete our online Yacht Insurance Quote form and our team will get back to you with a cost.