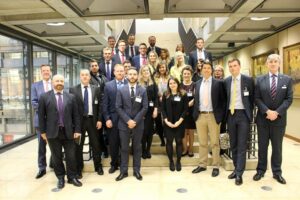 For the second year running, Lloyd's Global Development Centre in collaboration with The Managing General Agents' Association (MGAA), laid on an intensive one-day learning programme for its up-and-coming young members, including Deputy Underwriter, Cristelle Paulley from Admiral Yacht Insurance. (front centre in photo)
The programme involved senior figures from the corporation of Lloyd's and the MGAA and started with an introductory talk from both Peter Staddon, Managing Director of MGAA, and Benno Reischel, Head of Europe, Lloyd's. Inga Beale, CEO of Lloyd's, joined delegates for lunch.
A key objective of the programme was to clarify just how business is conducted at Lloyd's and delegates were given the opportunity to shadow an underwriter as they transacted business at their box situated in the Lloyd's Insurance underwriting room.  Delegates were also treated to a tour of the Lloyd's Building, including a visit to the Committee Room, an 18th century dining room designed for the 2nd Earl of Shelburne by Robert Adam in 1763 and painstakingly relocated piece-by-piece from the previous Lloyd's Building across the road.
Following completion of the programme the group were joined by members of the MGAA board for a networking drinks reception. From all accounts, the day was both thoroughly enjoyable and hugely informative.