Are you gearing up for a thrilling adventure on the high seas? Well, before you hoist those sails and set off into the sunset, it's time to stock up your yacht with all the essential supplies.  So grab a pen and paper as we take you through our comprehensive yacht provisioning list that will make your journey smooth sailing all the way!
Introduction to yacht provisioning
If you're new to yacht provisioning, or just need a refresher, this guide is for you. Yacht provisioning is the process of stocking a vessel with food, drink, and other supplies for a cruise. It's important to plan ahead and be organised when provisioning, as it can be difficult to find stores that sell everything you need while underway.
Essential items to stock up on
There are a few essential items you need to stock up on before setting sail. Here is a list of what you might need:
Water: You will need plenty of water for drinking, cooking, and cleaning. Store at least a week's worth of water onboard
Food: Provision your yacht with enough food for the entire crew for several days. Non-perishable items like canned goods, dried fruits, nuts, and pasta are ideal.  Remember to also stock up on fruits and vegetables that will last a few days without refrigeration. If you're planning on eating seafood or meat during your cruise, it's best to buy these items just before setting sail
Cleaning supplies: Stock up on laundry detergent, dish soap, sponges, and paper towels. You'll also need rubbish bags and a way to dispose of rubbish and recycling properly
First aid kit: A well-stocked first aid kit is a must onboard any vessel. Be sure to include bandages, antibiotic ointment, pain relievers, and other necessary items
Medication: Ensure you pack enough medication to last for your entire trip
Sun protection: You'll need a good supply of sun cream and after sun as well as a sun hat!
Safety equipment: Don't forget to check all your safety equipment before setting sail and make sure you have enough items including life jackets, flares, fire extinguishers, GPS trackers and radios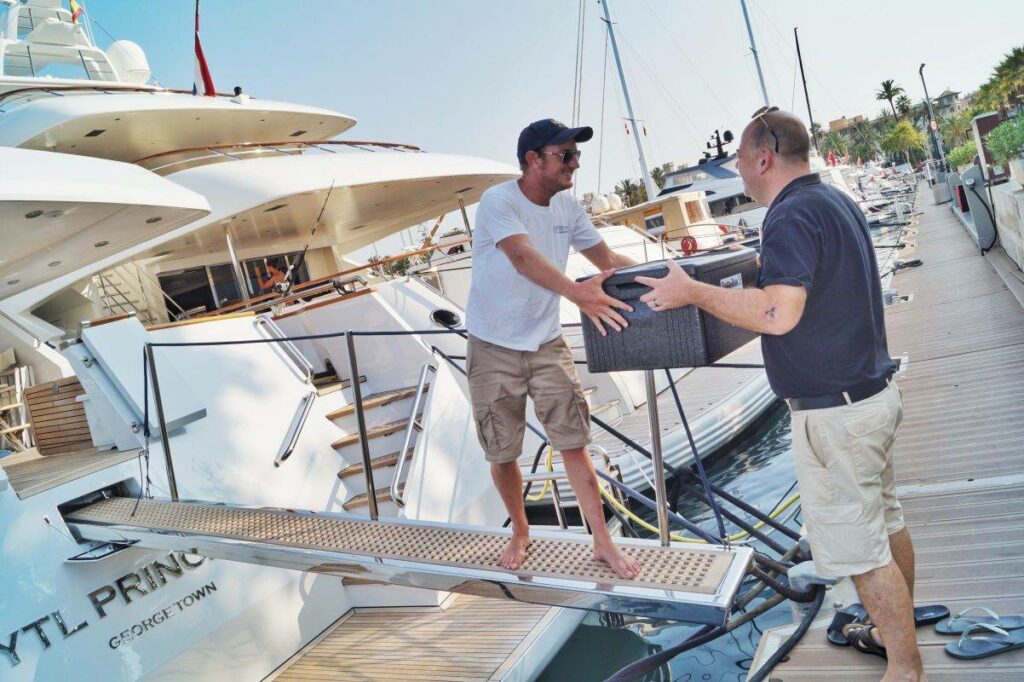 Kitchen and Cooking Supplies
No matter how big or small your yacht is, the kitchen is always an important part of life onboard. After all, it's where you prepare meals for yourself and your crew. To make sure you have everything you need for a successful cruise, stock up on the following kitchen and cooking supplies before setting sail.
Pots and pans: You'll need a variety of pot sizes for boiling water, cooking pasta, sautéing vegetables, etc. Consider investing in a good set of non-stick cookware to make meal prep easier
Knives: A sharp knife is essential for any cook. Make sure you have a few different sizes on board, as well as a knife sharpener to keep them in tip-top condition
Cutting boards: You'll need at least two cutting boards on board – one for meat and one for everything else. Wood or plastic boards are both fine; just make sure they're easy to clean and sanitise
Utensils: In addition to the basics like forks, spoons, and knives, you may want to consider bringing along some specialty utensils like tongs, wooden spoons, whisks, etc., depending on your planned menu
Storage containers: Airtight storage containers are key for keeping food fresh onboard. Stock up on a variety of sizes so you can store leftovers or prep ingredients ahead of time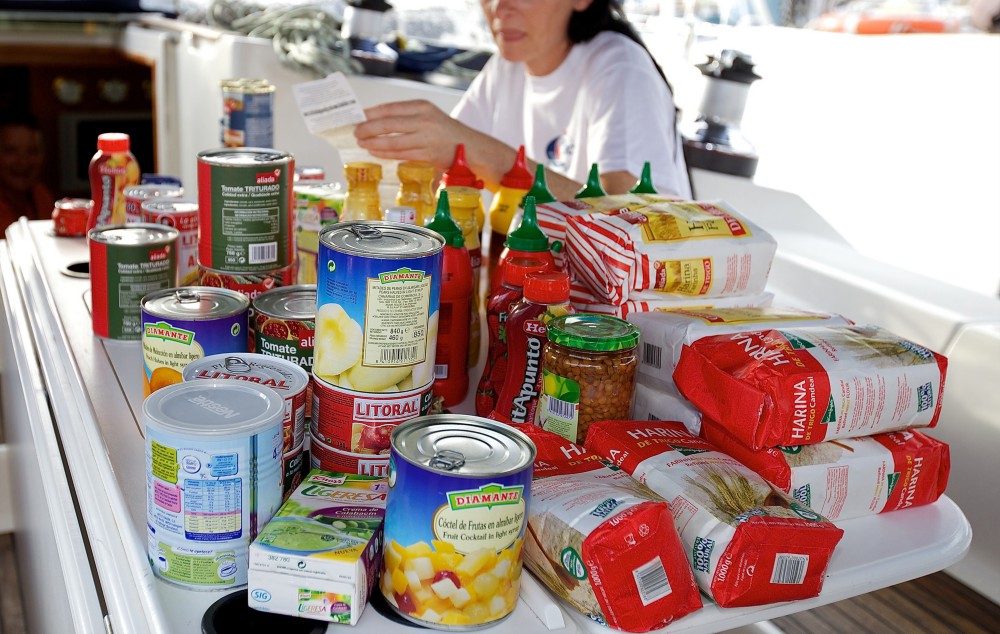 Non-essential but necessary items
There are some items that, while not essential, are definitely necessary for a comfortable trip! These items include:
A good stock of wine and beer. This is especially important if you plan on doing any entertaining onboard
Coffee and tea, as well as other non-alcoholic beverages
A selection of your favourite snacks
Books and games for downtime onboard
If you have space, consider a small vacuum pack system to help make your food last longer
An insulated water bottle for each crew member will help keep everyone cool and hydrated
Conclusion
When it comes to yacht provisioning, there's no one-size-fits-all approach. Every boat and every crew will have different needs and preferences, so make sure to stock up accordingly. With the right supplies in hand, you can set sail with confidence knowing that your crew is fully prepped for whatever adventures await them out on the open sea!