In association with Admiral Boat Insurance, Yachting Monthly created a series of potential disasters to find out if all the theories of how to deal with such situations actually work in practice. The boat used in the crash test is Admiral's own 1982 Jeanneau Sun Fizz ketch, Fizzical.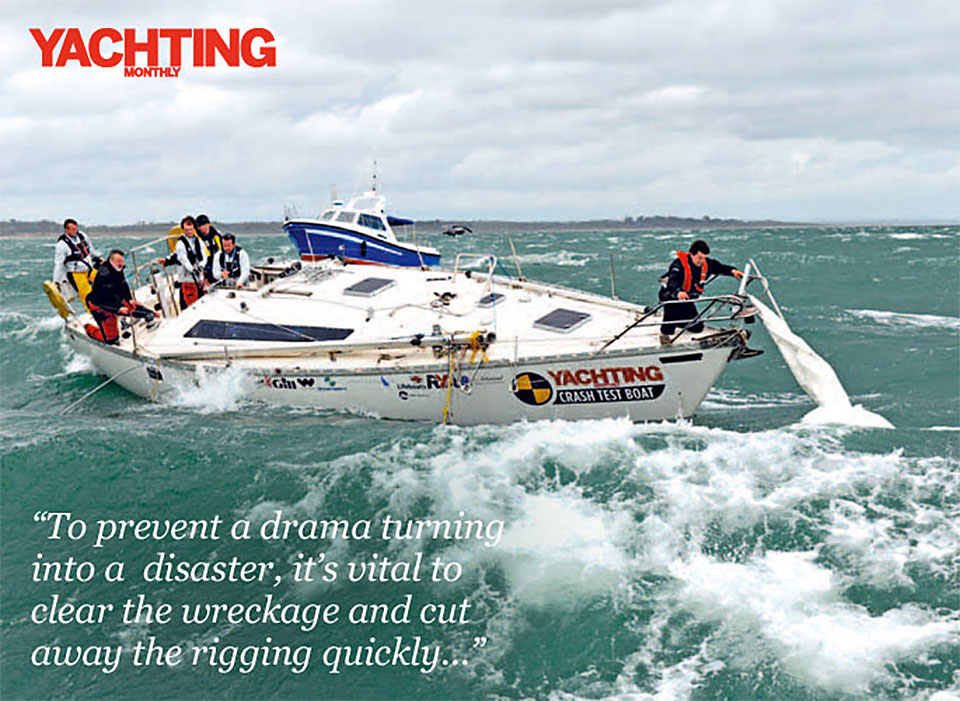 The Yachting Monthly team took the yacht out on a very windy day, gusting to gale force. In order to make sure that the mast fell down they took out a few vital pins, replacing them with fibre glass ones and loosened some rigging. The rig soon fell over the side, breaking at the first spreader. The crew demonstrated how to cut away the rigging and salvage the sails and finally, winch the mast back onto the boat. In another of the series, the crew shows how to jury rig the boat which is why of course its important to try to keep some of the sails.
Here is the event on video – a dismasting caught on camera under controlled conditions:
Robert Holbrook, MD Admiral Marine
"Often, the first natural human instinct when an emergency or disaster strikes is panic. In a series of controlled experiments, the Yachting Monthly crew put theory to the test by re-enacting some typical worst-case scenario sailing accidents or emergencies – such as grounding, capsize and mast failure. Risk assessment and careful consultation with experts was at the core of all tests. How often are incidents like this photographed and filmed in detail? By sharing their findings in a series of articles, I could see how yachtsmen could learn much invaluable information. Why not learn from our mistakes by following her story so you can avoid making your own?"
Download the full, unabridged Yachting Monthly articles in PDF format below for reading at your leisure.
What to do When your Yacht Run Aground: Yachting Monthly Article (PDF)
Dismasting: Yachting Monthly Article (PDF)
Boat Leaking – The Best Ways to Plug a Broken Through Hull from Yachting Monthly: Yachting Monthly Article (PDF)
Capsizing: Yachting Monthly Article (PDF)