Following the recent Acquisition of Admiral Marine – Yacht & Boat Insurance by Hayes Parsons Insurance Brokers back in June 2018, the company have been working hard to implement improvements to enhance the business.
Admiral Marine are proud to unveil the company re-branding in-line with the corporate branding of our sister company Hayes Parsons Insurance Brokers. We would like to say thank you to Tinstar Design for supporting the re-branding and updating of our company website: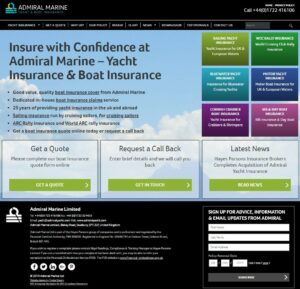 Admiral Marine – Yacht & Boat Insurance continue to offer the same great value insurance policies with over 30 years of experience in the industry and now alongside Hayes Parson Insurance Brokers the two companies are able to complement each other by offering its clients more insurance options, specialist cover across the Marine sector and an inclusive service for combined coverage.
On the re-branded Admiral Marine – Yacht & Boat Insurance company website, customers can continue to find the same useful information including our specialist and exclusive insurance coverage for the ARC Rally and the World ARC Rally with our corporate partner the World Cruising Club.
Whether, you own a Beneteau Yacht, Jeanneau Yacht, Hallberg Rassy Yacht or a Cornish Crabber for example, please Contact Us to discuss your Yacht Insurance requirements today or alternatively you can Get A Boat Insurance Quote online through our website.