The Admiral Yacht Insurance team are pleased to have supported the fourth Bluewater Weekend, organised by the World Cruising Club and hosted at Berthon Marina in Lymington on the 20-21 May 2017.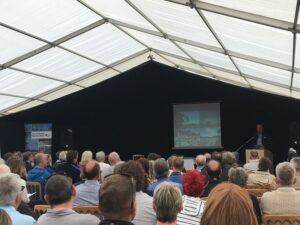 Designed to make visitors think about all aspects of living the bluewater cruising dream, the event combined a boat show, a seminar and a sailor rendezvous all in one. Additionally, participants had the opportunity to speak with experienced cruising sailors who had sailed thousands of miles all over the world providing an inspirational and thought-provoking weekend.
The two-day World Cruising Club event provided an ideal opportunity for the 150 aspiring bluewater cruisers to climb aboard a variety of ocean sailing boats.  Partner yacht brokers and bluewater yacht specialists, Berthon selected boats for open viewing from their portfolio of yachts, highlighting varying styles and budgets.  Additionally, a wide range of bluewater boats were made available by experienced offshore sailors happy to share their experiences with prospective bluewater cruisers.
The range of bluewater yachts on view included the Discovery 55 as pictured below and other sailing yachts as follows: Bowman 48, Swan 48, Contest Yachts, Oceanis 50,  Bavaria 46, Sweden  45, Hallberg Rassy 43 and Najad 440.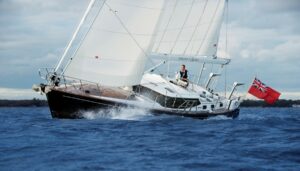 An informal programme of panel discussions and presentations covered a range of topics including the purchase of a boat through to it becoming a bluewater cruiser, the training available for going offshore, an ARC briefing and an inspirational sailing talk about cruising in the magnificent Pacific illustrated by renowned yachting photographer Rick Tomlinson.
Admiral Yacht Insurance Claims Manager, Bob Samuels, was delighted to be able to meet with participants as part of the popular 'Coffee with the Experts' session, where industry representatives were on hand to take one-to-one questions from attendees on topics including Bluewater Yacht Insurance, communications, yacht deliveries, training and nautical publications.
As a strong supporter of the World Cruising Club for many years, Admiral Yacht Insurance has developed bespoke Rally Yacht Insurance schemes exclusively for ARC Rally participants.  Tailored to meet the exact needs of ARC Rally participants, the schemes include benefits not available from other yacht insurance companies, including free aloft rig inspections directly prior to setting off on the ARC Rally and the World ARC sailing rallies.